China has recently banned golf for its 88 million Communist Party members (yes, 88 million!), labeling it bourgeois, decadent, and too representative of Western values. But we democrats know it to be a game that can
etch good character and perseverance, especially in the face of injury. Though not quite as brutal as rugby, it can also wear away bone and muscle over time, much like wind and rain wear away a mountain. We turn, we twist, we torque, we swing, we stretch, we hit, we slam, we smash, we grip it and rip it, we walk, we push, we pull, we slog, we sweat, we swelter, we freeze, we shiver, we sneeze. We play our game in all kinds of weather, on hilly terrain, confronted with hidden obstacles like stones in bunkers, semi-buried tree roots, snake holes, yellow jacket nests, bee hives, hawk habitats, not to mention errant golf balls whizzing by our ear. It's Russian Roulette out there that keeps protective golf angels constantly busy (those are deceased former golfers who've been assigned that important task).
Golfers are prone to injury but we are a hearty and sometimes foolish lot who play through injury only to suffer greater, more debilitating injury further down the road as a result of our unwillingness to take a break from our addiction. For we'd rather endure the non-life threatening pain than do
without a game that gives our lives meaning as religion does to non-golfers.
A conflict arises, though, when the injury we are playing through, becomes severe enough to impede the ability to play the game to the level we are accustomed, producing the frustration of a rat denied the food it was promised for doing what the researcher asked it to do: push a lever which had previously led to a succulent pellet dropping down to the dish. With a golf injury, we are often impelled to change some sequence, or timing, or fundamental, or alignment, or pace, or swing thought that helps avoid the pain but at the same time produces nothing of the promise we had expected. This might work for awhile on the range, but when it comes to actual play, with only one shot at it at a time, the pressure seeps into the musculature of body and brain, often resulting  in dysfunction of some sort.
I'm grappling with that myself, as I approach 70, with lower back pain that grows increasingly worse as the holes proceed, along with golfer's elbow that also worsens with prolonged use. So I compromise with a shorter warm up at the range before tee time or some adaptation like a shorter backswing turn, a slower speed through the ball, or a shorter follow through–all of which often lead to poor results and higher scores. What I should do, of course, is either take a break from the game or seek physical therapy, neither of which is high on my list of "want to do's". Is this sounding familiar? From an informal survey of my golfing buddies, I have concluded that a number of my mates are dealing with similar golf injury conundrums.
So what are the options?
* Continue to play, with total disregard to the consequences, putting off the inevitable, until one day, down the line, at some point, the body breaks down, and the consequences rise up like the Loch Ness monster. This is probably the most chosen option, keeping doctors and surgeons well in the chips.
* Seek treatment like physical therapy. This is fine, but often the PT adds cortisone to the mix, opening the door to undesirable side effects known to result from using this steroid. It works to reduce inflammation, and often pain, but infection around joints can result. I also experienced dizziness, which I figured may have resulted when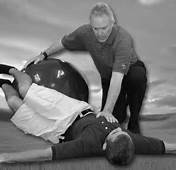 the cortisone didn't interact well with my blood pressure meds. But keep a good physical therapist as you would a good dentist or car mechanic.
* Work on a swing change to reduce pain while maintaining performance. This is what Tiger continually tries to do after his treatments for various injuries, or to prevent injuries as he attempts to keep up his "explosiveness" as he ages. This would best be done under the direction of a PGA pro who does not use a cookie cutter approach to instruction, but modifies his or her techniques according to case by case needs.
* Take periodic breaks from full-swing practice and on-course play. The golf body needs rest from time to time as we age. We can still keep up our short game skills while we take breaks from one to three months from the long game. Those who live with severe winters naturally break during the winter months, which used to be my own case when I lived in the Northeast years ago. The trick here is to somehow maintain skills during that break. Keeping up conditioning in a gym would help, especially exercises that keep the lower back, core, and joints fit, along with cardio training for endurance. Although careful not to overdo it: Additional gym injuries are common when adherents go beyond their limits. There are also an increasing number of Trackman- equipped indoor golf facilities available for winter time swing conditioning.
* Bite the bullet, and take longer breaks from the game, as needed. I hit a hidden rock in a bunker once, developed golfer's elbow, and dropped the game for eight months to allow it to heal. I even refrained from chipping practice for awhile, letting pain be my guide. It wasn't "no pain, no gain." It was more "no pain, OK to train." My golfer's elbow, though not as serious as before, has returned, and I'm considering another extended break over the coming winter (hard as that may be in golfer-friendly Northern California).
This list I'm sure doesn't fit all circumstances. You may have specific strategies to accommodate your own predicament. But all of us have to take an honest and mindful look at what is required to heal and/or prevent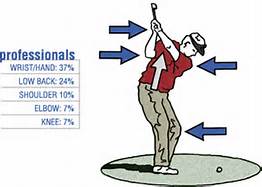 further injury. That is not easy because the tendency of the mind is to deny the need to change an activity which we like to do, even in the face of pain and discomfort. We enjoy that weekly round with our boon companions. It's a great break from the daily grind. It's even like therapy. Better, because it's fun. It's time in nature. Time away from the rat race, from the phone calls, from the freeways and runways, from the household chores and responsibilities. We kind of dread the time away from the game we love.
But the alternative is a worsening injury, and that's a challenge we must confront and conquer with intelligence, courage, wisdom, sacrifice, patience, support, and, often, help.
***
The Mindful Golfer: How to Lower Your Handicap While Raising Your Consciousness (Skyhorse Publishing, New York City, 2015) has been called "a meditation" on the game. It's based on this blog and covers all aspects of this great game. It's available in hardback, Kindle, and audible versions. Check it out at your local bookseller or online.